The invention and use of antibiotics played a major role in the treatment of human and animal diseases. However, in recent years, in large-scale animal production, antibiotics have been used as growth promoters, disease-prevention health foods, and other purposes. While improving animal productivity and feed conversion, long-term abuse of antibiotics has also brought a series of drug residues and pathogen resistance. Medicinal and other food safety and public health issues.

The nature of the return to antibiotic treatment, gradually constraining and reducing the use of antibiotic in livestock cultivation has become the consensus of many countries and industrial tendency.

We propose that "the use of antibiotics for the purpose of promoting growth and disease prevention should not be used in the breeding process. When the antibiotics are used for the symptomatic treatment during animal illness, the dose, course of treatment and drug withdrawal period should be strictly controlled to ensure no antibiotic residues in end product. The above definition of "antibiotic-free product" is the theoretical basis for our implementation of antibiotic-free breeding and certification.

We work with producers, processors and retailers to provide antibiotic-free product Certification Services.

On this page you will find more information on how to achieve and maintain antibiotic-free product certification.
The origin of antibiotic-free products certification:
Certification body scale:
From 2016, WIT started to organize the investigation for antibiotic-free products certification. As the earliest certification body who develops the antibiotic-free product certification, WIT take the demand of consumer as the starting point, adopt the market mechanism and third-party certification measures, make the certification body assured, quantity controllable, traceable and anti-counterfeiting "antibiotic-free product" come into families around the world.
WIT is the earliest certification body who build a farm-to-table full food chain certification mode in a professional perspective. WIT is equipped with complete certification qualifications, maintain its leading position in the field of food certification,and has issued the first CNAS recognized Food Safety Management System, China Organic Product and GAP certificate.
We aim to build a professional technical team based on professional development, enhance core competitiveness and strengthen food chain certification. A number of highly qualified professionals with professional background in agricultural products, food and rich working experience in agriculture or food manufacturing have joined WIT, covering the fields of planting, breeding, plant protection, food processing, catering, etc.
More than 1,000 valid customers at home and abroad in the food field. With certification business all over the world and high recognition in the industry, we have a wide and high-quality customer base that can assist in improving the supply chain. WIT focus on customer service and customer feedback, committed to establishing effective communication with customers, improve service quality and efficiency.
WIT has one of the largest overseas organic customer bases in China. Our certification clients are distributed over 30 countries, 50% of them are located in Europe. WIT provides professional project consultation, efficient implementation of inspection plans, comprehensive post-certification management and market development services for companies.
Checklist for Application
1.Business license/Registration license/Processing license/Hygiene license of
2.Epidemic prevention qualification certificate
3.Proof of land ownership
4.Farm location map and layout map
5.Antibiotic-free product breeding plan
1.Business license/Registration license/Processing license/Hygiene license
2.Processing license
3.Contract/Purchase order/Relation statement between each party (If applicable)
4.Site location map and layout map
5.Processing flow chart
6.Purchase documents of the outsourced ingredients and additives. If it is antibiotics-free ingredients, please also provide the antibiotics-free certificate and transaction certificate.

Antibiotic-free Product Marks
Antibiotic-free Product Certification
Products displaying this Mark have been produced
according to the WIT Antibiotic-free Technical Specifications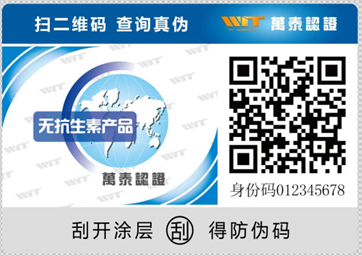 One Pack One Code

The unique identification code and CB logodisplay on
each smallest selling package of the products.
International Sunyard, No.1750 Jianghong Avenue, Binjiang District, Hangzhou, China
Tel: +86 0571 87711560

/13656651812